Page 2: More Alternative News
Timetraveller visits Icons 2008!
2008-06-09 21:23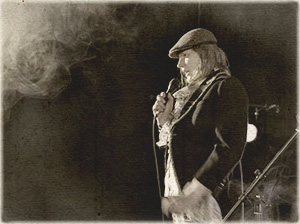 The crowd was shocked at Icons 2008 when suddenly, during the Wild competition, Setok from the future visited the party using a time machine. He came directly from a business meeting with the inventor of the Analytical Engine, Charles Babbage. After the speech, Mr. Setok presented a gift directly from the 22th century which was called "Ice Cream".
The cold, red substance was distributed among the participants, who were told to taste it. It turned out to be a very tasty gift and Mr. Setok was later thanked by the hundreds of participants with applause and waves from the ladies.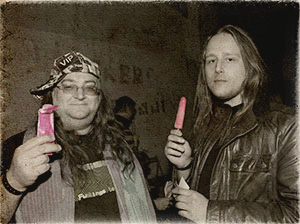 The Icons participants loved Mr. Setok's appearance and the Ice Cream so much, that they gave him a bronze medal in the competition. This is considered one of the finest ways the demoscene community can give their appreciation to a human being. Mr. Setok was very touched by this homage and he said, "This prize makes a man silent with respect. However, the fight must continue!" He also thanked his steam provider, his three cats and the manufacturer of the time machine: Sir Edgar Windlestrop.
Multi-steam engine in development?
Later that day, rumours spread among the audience that Setok is secretly developing a new multi-steam engine version of the analytical engine which would revolutionarise the calculating efficiency of the device. Our reporter could not get a confirmation from Mr. Setok, but stay tuned for more developments. [ALT]
See also the visual recording on the global telegraph.
Demos, computers, art and people
2008-06-01 21:52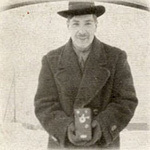 The Alternative Party 2008 is a 
demoscene
party
and festival of digital culture which gathers together creative programmers, visualists, musicians, designers, researchers and passionate enthusiasts. The aim of this year's party is to showcase the very birth of computers: the Victorian era with steam, Charles Babbage and calculating machines. So put on your finest and join in the fun.
[ALT]
Setok invents programming
2008-06-01 21:30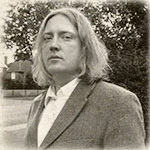 The telegraph logs have been buzzing after the successful meeting between Mr Charles Babbage and Kristoffer "Setok" Lawson. Kristoffer later decided to purchase two Analytical Engines for Scred Ltd and in the process of setting up these computing machines he designed an abstract language called 'A' which is able to control the logic of the engines for problem solving. More on this later.
[ALT]
Steampunk and digital culture
2008-06-01 21:24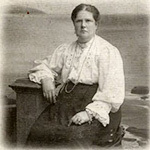 The demoscene party and festival of digital culture Alternative Party 2008 gathers together creative promoters of digital culture like programmers, visualists, musicians, designers, researchers and passionate enthusiasts. The theme of this year's Alternative Party is steampunk. Steampunk shows what the world could be if there had been computers in the victorian era and the world would have been steam powered. [ALT]