Page 2: More Alternative News
Results published
2008-11-26 17:28
The official results of the Alternative Party competitions have been published. Congratulations to all winners of the demoscene and other competitions. Check the results.
Alternative Party 2008 is over
2008-10-26 21:24
Thank you to everyone! The 10th anniversary party is now over. Check out our YouTube videos if you miss it all too much and wait till the picture gallery will get some more pics on next week. See you all in next year and hopefully before.
Kosmoplovci is coming to the Northern Europe first time ever
2008-10-20 00:18
Serbian artist and demoscene group Kosmoplovci is going to perform at Alternative Party 2008. They will perform Saturday 25th October with their project called KDES.
KDES is a live audiovisual performance platform emerging from Kosmoplovci group. Each KDES performance is unique and non repeating experience, a modern symphony of sound and vision.
KDES project have a history of 6 years. It has been performed in Serbia, Austria, Czech Republic and Slovenia. So this is a unique situation to see Kosmoplovchi with their performance methods this part of Europe!
Advance ticket sales ends on Monday
2008-10-17 11:33
Advance ticket sales ends on Monday 20.10. for all other ticket types than the Normal ticket and First Class ticket. Also, after Monday 20.10. bank transfers are not accepted, due to the delay. Credit card and other payments are accepted until the end of the event.
Buy your tickets now!
Demoscene seminar program published
2008-10-17 11:24
The Finnish Academy of Fine Arts and Alternative Party is organizing a two day demoscene seminar on Thursday 23.10. at 14-20 and Friday 24.10. at 14-19. The
program
has now been published. Do also join us at the
Alternative Party warmup club
on Thursday 23.10. at 20-.
Be the next Gutenberg!
2008-10-08 01:13
1st Revolution: In the 15th Century Gutenberg invented the printing press, which made a revolution in publishing.
2nd Revolution: In the Victorian age the newspaper of today was born - and they still look a lot like then.
3rd Revolution: You are about to make the third revolution at Alternative Party 2008: What will the biggest Finnish newspaper Helsingin Sanomat be when looked through the eyes of a Demoscene artist?
Check the HS.fi Material Challenge and participate!
Steampunk Costume Contest
2008-10-01 18:46
Enjoy the party with a pint or two!
2008-09-19 01:27
During Alternative Party, you won't be hungry or thirsty.
Café Soihtu
provides you with 24h/day service of a wide sortiment of coffee, tea, soft drinks, sandwitches, salads, and much more. But there is more! We have our very own
Valuemotive Bar
located
inside
the party place. The bar serves you with drinks for every taste, until early morning every day.
» Read more
The Conductor of the First class
2008-09-06 23:43
The First Class lounge Host for Alternative Party 2008 has been confirmed. Relaxed athmosphere with some refreshment is guaranteed at the V.I.P. area. If you want to join the sponsors, artists and other V.I.P. persons, there are some First Class Tickets still available at our tickets shop. Join the First Class and enjoy the ultimate steam experience.
Alternative Party 2008 invitation intro released
2008-09-04 01:21
Alternative Party 2008 invitation by Byterapers was released at Assembly 2008. This OpenGL ES 2.0 demonstration uses the Ardites' Treed3D engine which now features M3G fileformat support, shaders and LUA scripting. The demo was developed for Texas Instruments OMAP3 platform, but should run on most OpenGL ES 2.0 platforms. Meet the developers and see the demo running on real hardware at Alternative Party! » watch now!
Buy your advance tickets now!
2008-08-31 11:58
The ultra cheap advance ticket sales ended on 1.9.! You can still get your tickets for the normal advance price.
Stay tuned to Alternative Party News
2008-08-29 15:53
You can now subscribe our
news feed
(XML). Stay tuned!
Brad Templeton as special guest
2008-07-29 09:17
The chairman of EFF Brad Templeton is the Special Guest of Alternative Party 2008 and willbe appearing on the stage on Saturday to host a special sessionon the light and dark sides of computing. » Read more
Front 242 - first time to Finland!
2008-07-20 23:34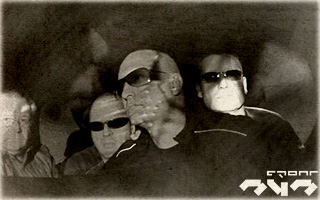 The Belgian masters of EBM -
Front 242
- is the main music artist of Alternative Party 2008! They will give a full concert on Friday 24th October. »
read more
and see
the message
!
Royal Society - full steam ahead!
2008-07-15 22:36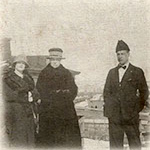 Rumours grow stronger: the
Royal Society
of people interested in Demoscene, Culture, Art and Technology will meet at Alternative Party. Direct your steamed wheels and analytical engines towards the Cable Factory!
[ALT]