Art Exhibition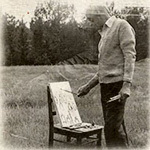 There will be an art exhibition at Alternative Party 2008. Exhibited will be several examples of fine art — paintings, installations and other items submitted by artists from both inside and outside the demoscene.
This is a preliminary list of artist and it will be updated later on.
Jaroslaw Diablos Balabanski - Visuals From Heaven
Sinem Baykal - Mechanicalscape II – Golden Age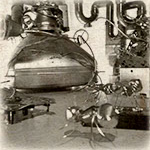 Sinem Baykal (Istanbul, 1980) finished her BA Degree in Department of Fine Arts, Bilkent University, Ankara, Turkey in 2004 and currently studying her MFA degree in the Finnish Academy of Fine Arts, Sculpture department, Helsinki, Finland.
"I think we are living on the computers or inside the computers. Any kind of electronic plates are just like the materials; such as concrete, metal constructions and factories, buildings, spaceships, satellites. All that symbolizes industry and technology spread all around us. When we look at earth from the space, the image we see inside the electronic plates or computers is same as the image of our planet from the space. When I see the similarity of the micro and macro and the similarity between the cities and the electronics I decided to combine the city plan with those materials and created a world with the ants that look like our society with the way of their routine life. So I reconstructed the electronic plates and made the first serious of 'Mechanicalscape' which was exhibited in Istanbul in May 2008 and this installation 'Mechanicalscape II – golden age', which will take part in the 'Alternative Party art exhibition 2008' in Helsinki, is a close up and development of the city."
Cini - Elektronisia virtoja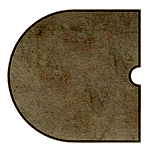 "I am currently enrolled in the Visual Culture Department of Univerity of Art and Design Helsinki and majoring in Graphic Design MA. My love for music and my will to experiment (in design) grew during time studying in London, especially after reading about electronic music theory. The debut Cini: Additive was released by a collaboration of Cymbidium Records and LAYBL -Exploring unique ways of producing audiovisual unity! Additive album (15€) is available at Lifesaver, Street Beat, Cybershops, Vaisto/Koshka Fluoro Store and Mp3 at CDON, Cymbidium Store, iTunes, e-Music, Nokia Music Store.
Some of the people I have been working with regarding new media workshops are Lode Coen and Lucas Nijs. Lode Coen worked in Silicon Valley for Adobe for 10 years. Lucas Nijs and his Belgian group are developing 'Nodebox'."
Filipe Cruz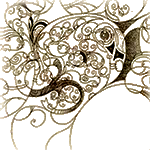 Portuguese Filipe 'ps' Cruz has been kidnapped to The Planet of Leather Moomins to produce demos since 1997. Accused of killing Farbrausch atleast three times for providing glitch ambient audio to demoscene legend Visualice, Filipe inbred a taste for paper sketching during his recent years with some collaborations with Kosmoplovci's studiostrip during his visits to Serbia and 2d art direction for the altparty 2007 winner demo "your song is quiet, pt 2" produced by Russian ZX Spectrum legends CyberPunks Unity and their new sub-group Inward.
Maija Haavisto
"I am a 24-year old artist, writer and photographer from Helsinki. I have always been fascinated by surreal art, but it took me quite a while to muster up the courage to try my hands on it. I love trying out new styles, ideas and techniques. Animals are one of my favorite subjects. I also like visualizing metaphors and puns in my work - but sometimes my ideas are just completely random.
I have worked in many different media, but I enjoy the creation processes of ASCII art and acrylic painting the most. When I started drawing ASCII pictures in 1997 I was immediately hooked. I started painting a few years later. My paintings and ASCII art have been featured in the art book 'Creative For A Second'. Some ASCII art of mine also appeared in Miranda July's movie 'Me and You and Everyone We Know'."
Eric Hynynen - The Swarm (Parvi)
The weak will evolve and inherit the earth.

Eric Hynynen is an Australian/Finnish artist, living and working in Helsinki. He is currently a special masters student at the Finnish Academy of Fine Arts. Contact eric.hynynen@kuva.fi for more information.
Tommi Koskinen - Bird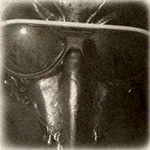 Author: Tommi Koskinen / Kitkaliitto
Assistant: Juha Hilpas / Kitkaliitto

Bird is an adversary edgy character who lives in our subconsciousness and represents the opponent that always defeats you in the everyday life. This journey is a lucid dream of facing Bird in a den filled with neon lights, minimal techno music and shady gamblers.

Kitkaliitto is three years old collective of three friends who are interested in music and visual arts. Kitkaliitto makes music without genre-limits and re-arranged plans. The music being very subliminal has been the major creative workforce behind the characters such as Bird. Our previous works include few musical scores for theatre plays, live shows at events of electronic music and 8-mm film Turbulence. This photo exhibition is the first for the author.

If you want to know more or feel the aural companion for the exhibition go to http://www.myspace.com/kitkaliitto.
Uros Krcadinac - Synesketch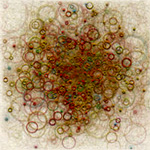 Synesketch is an artistic software library with synesthesia. It is a Web's first free open-source textual emotion recognition and visualization engine – code that feels the words visually! It is a form of digital synesthesia, a bridge between words, emotions, and images, between poetry and painting. While one types, Synesketch dynamically transfers the text into animated visual patterns. Emotional content of the text is represented via various Processing graphics. Our project is a result of a research that spreads out through several diverse fields – from natural language processing techniques based on WordNet, across Ekman's research of emotions, to color psychology, visual design, data visualizations, and affective computing. Besides injoying our visual artworks, one is welcome to create her/his own Synesketch visualizations, or build serious emotion sensing or synesthesia-like applications, with Java and Processing. Enhancing human communication, expression, and inspiration is the main goal of the project.
Unfortunately we couldn't arrange a computer for the piece, but you can check out the stuff on their website.
Official Website: http://synesketch.krcadinac.com/
Uros Krcadinac (24) is an award-winning researcher, programmer, and animator from Serbia. Currently, he is a research associate within the Good Old AI Research Group, inventing software with focus on human creativity. His newest project is Synesketch, Web's first free open-source textual emotion recognition and visualization engine – code that feels the words visually. He has recently graduated in the field of software engineering at the University of Belgrade, with First Class Honors. Concurently, Uros creates short films, mostly classical animation. He is the full author – writer, director, animator, designer and editor – of the several award-winning shorts, screened at festivals in France, Hungary, Bosnia, Russia, Greece, USA, and Serbia. He held two solo exhibitions and won City of Pancevo Award for the achievements in the field of art. His other interests include travel writing, blogging, bike riding, and park swings.
Needles in Air
Needles in Air refers to a name of band led by Tuomo Rainio. Needles in Air is also much more, it is a project of mediating immediacy and search of presence. At the same time, Needles in Air is a spectacle of nothing.

The band members plays self made and programmed instruments that become additional parts of their bodies. The result is as much visual experience as it is sonic. The performance brings posthuman visions of mediated and programmed chaos to the gallery space. The Needles in Air is an image in the presence. Live video image is turned into the hypnotic noise and noise in physics. When the band takes a rest the stage turns into a interactive installation of sculptures
(instruments), screens and sounds.

More information:
http://www.myspace.com/needlesinair
Needles in Air will be playing at the exhibition area on Saturday, between 17:00 and 18:00.
Sandra Rael Sitron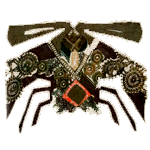 Sandra Rael Sitron (USA, 1980) Completed BFA at Maryland Institute, College of Art, 2003. Currently working as artist-in-residence in Rauma, Finland. Permanently based in New York, USA.
Sitron's fiber sculptures are constructed from found materials: handmade decorative crafts and industrially produced synthetic fibers. She is drawing focus to the trajectory of societal expression post-industrial revolution. Through the materials and imagery, she is running a timeline of the last century. A specialized "history" of globalization, which picks up at the moment that handmade crafts began to be displaced by the factory. The product is a Frankenstein of sorts; a collection of personal imagery and cultural materials that aims to regenerate dead arts.
Simo Rouhiainen - Oscillation
"The stock prices on the New York Stock Exchange go down and generate sounds."
Brad Templeton - Burning Man panorama

A giant, high resolution photograph showing all of Black Rock City, the ephemeral city which is the site of Burning Man. Burning Man is perhaps the world's most unusual alternative cultural festival. Not a concert but a celebration of art, entirely without commerce, and in theory with no spectators. It takes place once a year on a desolate dry lakebed in northern Nevada, USA.
For more photographs see http://www.templetons.com/brad/burn/
Following descriptions only in Finnish:
Maria Candia - Captain Shiva and Megaweb-edit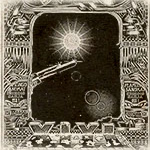 Megatron Braineaterin Kapteeni Shiva-kirjasarja on galaktisen suureellinen, aivan uusi avaruusjännäri, joka sivuaa aistimattomia ulottuvuuksia ja muita tuntemattomia ilmiöitä, osin riettain ja taiteellisin vapauksin. Kuvitus hämärän ja sarjakuvan rajoilta, sekä kertomukselle sävelletyt soundtrack-kappaleet aiheuttavat audiovisuaalisen haamun tekstin ylle. Psykedelia ei kuitenkaan sulkenut pois tieteellisiä kunnianhimoja Shelleynkään aikaan. Syksyn aikana avattavien Flamongo Sanomien sivujen yhteyteen kirjasarjalle on tulossa sähköinen tiedeanekdoottiekstensio, joka on laadultaan harvinainen, mutta looginen lisäkomponentti science fiction-kirjalle. Kyse on sivustosta tietoa kaikista niistä tieteen tosiseikoista, ja spekulaatioista, johon kertomuksen tapahtumat ja sivuamat perustuvat. Kirjasarjaa kirjoittaesdsaan kirjailija joutui nimittäin työntämään sulkakynänsä seuraaviin tietämyksen aloihin: tähtitiede, kosmologia, geeniteknologia, gender-tutkimus, viihde- ja hyötykybernetiikka, älyusva- ja hologrammitekniikka, eläinten komunikaatiokäyttäytymisen tutkimus, robotiikka, elektronisten musiikkilaitteiden tekniikka, UFO-tutkimus ja SETI:n toiminta ja neurologia... Jne, jne.. Kirjasarjan Megaweb-editissä kiinnostuneet voivat oppia seikkoja, joita he eivät tienneet omasta maailmastaan hurjan tieteisfantasian herättäminä - tai löytää sen tarinan lumoihin taruakin ihmeellisemmän tosielämän ja Internetn, (Megawebin alkumuodon) kautta.
Alternative Partyssä voit nähdä vinyylisten seiskatuumasten, syvän nostalisen estetiikan, ja paperipainosten maailmasta ensimmäistä kertaa teknologiselle aikakaudelle siirtyvän Flamongo Sanomat-julkaisijan debyytin pikseleitä hienommassa paperikuosissa, Ja kuunnella musiikkia, hämmästyä kuvista, sekä tietysti selailla, tai ostaa omaksi harvinaisen hyviä kirjoja, joista jokainen muistuttaa erehtymättömästi taidekappaletta itsekin.
Kalle Hamm & Dzamil Kamanger - Afaryan monologi ja Afaryan muistelmat
Janne Pulkkila - Experiments with Radioactivity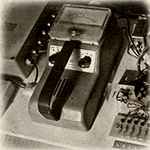 Experiments with Radioactivity - Kokeita radioaktiivisuudella
Ionisoiva säteily on näkymätöntä, eikä sitä voi aistia millään muullakaan tavalla. Sen havaitsemiseen tarvitaan jotain teknistä välinettä. Interaktiivisessa näyttelyssä on kierrätysosista rakennettuja kojeita, jotka kääntävät säteilyn näkymättömän energian inhimilliselle kielelle. Esillä on mm. radioaktiivisten aineiden peli. Siinä gamma- ja betasäteilyä mittaavat ilmaisimet ohjaavat 70-luvun videopelin peliohjaimia. Eri materiaalit voivat pelata toisiaan vastaan. Kumpi voittaa, radium vai triniitti?
Säteilylähteinä kojeissa käytetään radioaktiivisia aineita sisältäviä kodin tarve-esineitä ajalta ennen kuin säteily oli vaarallista. Käytettävissä on geigermittari, jolla näitä esineitä voi mittailla. Kodin yleisimpiä radioaktiivisia aineita ovat vanhojen kaasuvalojen hehkusukkien torium (ns. "Petromax"-lamput) ja radium, ennen vuotta 1965 valmistettujen kellojen viisareiden ja numeroiden pimeässä loistavissa valoväreissä. Kannattaa tuoda kotoa säteileviksi epäiltyjä esineitä mittailtavaksi tai vaikka pelaamaan muiden radioaktiivisten esineiden kanssa.