Accommodation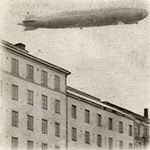 At the party place
During the party, you can sleep at the party place at the following sleeping areas:
Sleeping corner in the party hall.
Premium sleeping area in the basement. Completely dark and quiet. (Royal Society ticket required)
Showers available. Additional services, such as breakfast, currently under negotiation.
Hotel accommondation
Do you prefer your own room with a comfortable bed, a shower and a breakfast?
For hotel accomodation we recommend the closely located Holiday Inn - Helsinki City West. A special discount is available for Alternative Party visitors from Friday 24th October to Monday 27th October (check-out day):
70 €/night for a single room
75 €/night for a double/twin room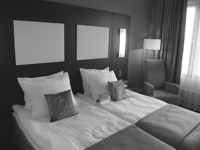 The room price includes breakfast, sauna, ADSL Internet connection free of charge, tea & coffee kettles in room, and a sortiment of 5 different pillows. All taxes included. Limited amount of rooms available.
To make the reservation: The discount keyword/reservation link will be provided to you when buying your Alternative Party tickets.
Distance: The distance to the party place is 500 m (by foot).